Tracklist
1. Nuts (04:50)
2. Away In L.A. (04:37)
3. Be Gone (04:03)
4. Setting Sons Of Stone (04:12)
5. Get Movin' (04:41)
6. Dirty Woman (04:27)
7. Life's A Bitch (04:50)
8. See The Sun (05:44)
9. What To Do (04:07)
10.Fata Morgana (04:25)

Personnel
Sake Boonstra – lead vocals.
Jimi Bonnema – guitars, bckgr vocals, lead vocal (on track 7).
Angel Vilar Castellar – drums, voice-over (on track 10).
Remi v/d Schaaf – bass guitar, bckgr vocals.
Harm Wierda – organ.
All songs written by Desert Sons. Produced by Milan Ciric and Desert Sons. Pictures by Gea Kuiken, Tanja, Remi and Sake. Cover design by Desert Sons, artwork by Sake. Recorded at the Sing-Sing Studio Metslawier. Special thanks to Willem the soundman on the road and Tom Kuiken the practiceroom man. Released in October 2006.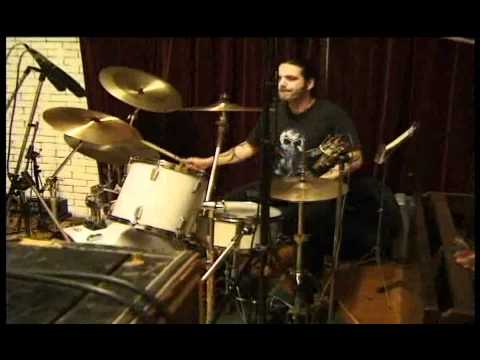 The Desert Sons just jammin' with "supertalent" Harm at the Sing-Sing Studio in Metslawier early 2006.

Thanks to
Ome Sake
for the additional info.
Tracklist
1. A maternal ear and dead perfume (07:27)
2. Nipple of the world (15:05)
3. Hats off to Harm Wierda (02:03)
4. G-Mineur sext (03:40)
5. 13th Baklat cycle (02:41)
6. The Isle of Groix (09:17)
7. God is an audience too divine to clap (04:13)

Personnel
Jan Harry Rus (J.C.) – vocals
Steven Jouwersma – guitars, organ
Bram Nigten – drums, percussion, banjo
Martine Rademakers – piano, organ
Jos Volkers – bass, accordion
Steven Willemsen – harmonica, synth
Cristina Isabela Beteringhe – violin
Jouke v/d Krieke – guitars, organ, violin, accordion
Arnold Nieborg – guitars
Harm Wierda – guitars, organ
Klaske Oenema – vocals
Davind Lamain – guitars
(Note by admin: not sure if all these people or maybe more played on the album)
All songs by Sexton Creeps. Analoguely recorded at Sing-Sing Studio Metslawier in February 2010. Mixed by Steven Jouwersma at Sing-Sing Recording Studio. Mastered at The Mastering Factory by Paul Matthijs Lombert, Eindhoven. Artwork by Jos Volkers & Jan Harry Rus. Illustrations by Astrid Florentinus. Graphic Design by Kunny van der Ploeg.
Released in 2011, presented at the Vera club on Thursday February 24. Visit the Sexton Creeps site to download the album.

Buy the album at Dying Giraffe Records.
Formed at the end of 1993, The Electric Egg basically consisted of either Peter Bisschop's songs accompanied by a hippie rock and folk band, or the group completely freaking out in jams and improvisations.

After an acid-induced rehearsal, the band ceased to exist for Harm decided to take it slow and relax for a while at his parent's farm to start a new band: Friction

Personnel
Peter Bisschop – vocals, guitar, bugel.
Harm Wierda – organs, bg vocals.
Martijn Grit – bass, bg vocals.
Michel van Kerkhof – drums, bg vocals.
Jacco Kleingeld – violin, tin whistle.
The Wierda Trio was formed in 2009, originally with Marieke Schwarzenberg on drums. After a few performances, Victor de Boo replaced Marieke.
The first formal presentation was on december 30 2009 in Grand Theatre in Groningen. Currently (2011), the Trio is a bit inactive because the individual members are busy working on other projects.
Visit the WierdaTrio on myspace to see the videos of the concert.
Personnel
Harm Wierda – vocals, organs, guitar.
Arno Bakker – sousaphone
Victor de Boo – drums.
Arno Bakker has performed with Harm as EE33 on some occasions, exploring more experimental sounds.